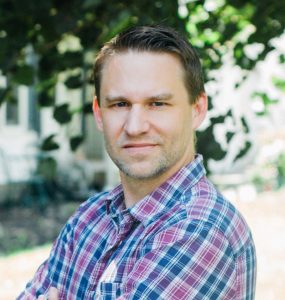 The Ohio Independent Film Festival is pleased to announce Brian Bowers as its new Executive Director!
Bowers is well known throughout the greater Cleveland film community for his work as producer of the Cleveland 48 Hour Film Project, which he has helmed since 2008. The competition brings local filmmakers together for the challenge of creating a short film in just 48 hours, which is then screened at a local movie theatre for awards and a chance to screen at the 48HFP's Filmapalooza festival, and even the Cannes Short Film Corner.
However, he also works as Assistant Director of Operations and Marketing for the global 48 Hour Film Project headquarters, working with producers and filmmakers in 100+ cities around the world. His experiences with the 48 Hour Film Project have allowed him to experience different kinds of independent cinema from all over the world, which in turn has helped him to connect with filmmakers from many different countries and cultures. It is exactly this network of global filmmakers that Bowers hopes to reach out to in order to find the very best films from around the world to premiere at the Ohio Independent Film Festival.
"I'm thrilled to be working with Ohio Independent," Bowers stated. "The festival has a long history here in Cleveland, and I'm excited to bring back some of that energy that we've seen in previous years."
Bowers has big plans for the festival, which include bringing back juried awards. "Ohio Independent has always been a filmmaker-focused festival, so I think it's important to be able to recognize the creative work that's being done by these filmmakers." Bowers will use his own personal network to find festival judges that will be able to give awards in over a dozen different categories.
Other plans include the addition of filmmaker workshops during the festival, and a sponsored filmmaker profile series that will allow festival-goers to learn more about the people on the other side of the camera lens before actually watching the films that they have created. "I think there's a huge opportunity to partner with some of the other arts organizations in the Cleveland area to really make this year's festival a great community event."
Submissions are currently open for the November 2nd One Night Only festival. Filmmakers can submit their feature length or short films for consideration via Film Freeway.